Innovation is rapidly changing the face of global trade finance. As a leading player in decentralised finance (DeFi), Contour is designing the digital future for the industry by leveraging innovative new technologies. How does it happen and what goes on at the Innovation Lab? Elaine Ng, Contour's Head of Innovation, unveils the Contour Innovation Funnel and sheds light on how and why it was implemented.
Contour's Future of Finance Lab was established in July 2021 at our headquarters in Singapore, with a mission to reimagine the future of trade finance using user-focused and data-driven techniques.
In order to make sure that we are taking a structured, yet flexible, approach to managing our innovations, we have developed a Contour Innovation Funnel that allows us to evaluate and track innovation ideas at differing stages of maturity. This funnel has been carefully designed to include multiple collaboration points with our Contour members and partners, in order to ensure that we are taking a user-focused and collaborative approach to innovation.

Why is innovation important to trade finance?
The trade finance industry underpins and enables global trade and as such is a vital part of the global economy. That said, there is an ever growing trade finance gap – estimated by the ADB at $1.7 trillion in 2020 (some estimates place it significantly higher) – where not all businesses can get access to the financing that they need in order to support their trades. This gap has been exacerbated by the global pandemic, and is said to be "driven by a combination of factors including creditworthiness, collateral requirements, short-term liquidity and political or currency risk".
In order to address these issues and enable wider access to trade finance solutions, there is a growing drive to leverage technology to provide solutions that can be delivered across a diverse global trade finance ecosystem.
At Contour, our goal is to create a decentralised global trade finance network that enables everyone to collaborate seamlessly and securely in real time, on one common platform.
Innovations we are researching within the Future of Finance Lab will focus on how we can expand and deepen the offerings on our Contour network, in order to ensure that we are providing accessible, efficient and trustworthy trade finance solutions.
How do we plan to innovate trade finance?
Our innovation approach is built around the use of Contour's Innovation Funnel.
It comprises the following stages: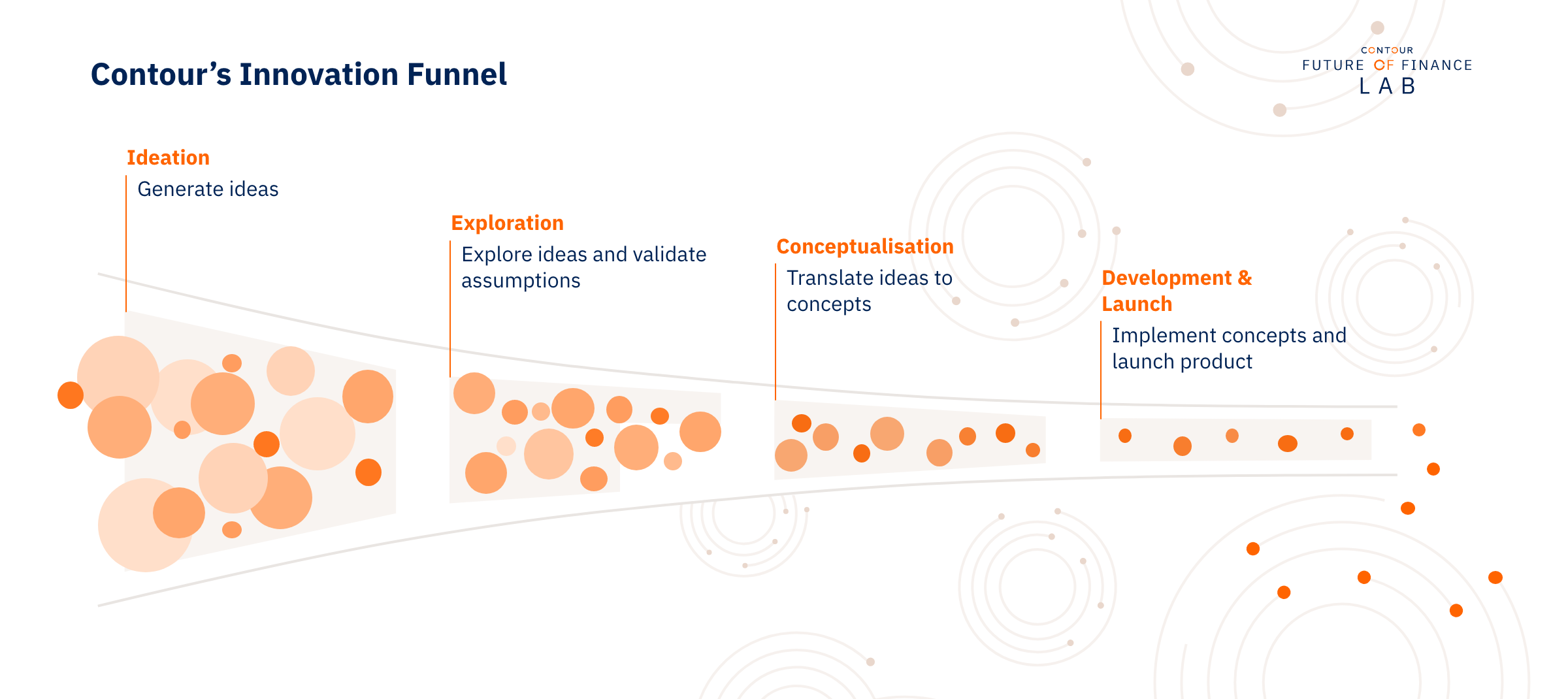 For each of the stages:
Engagement mechanisms are built in to ensure that we are innovating collaboratively with our Contour members and partners.
Evaluation points are built in to allow us to look at the data to ensure that what we build is sound from a data perspective.
Ideas will be tracked in an innovation backlog to enable all participants have visibility and awareness of opportunities and progress.

Why have we taken this approach?
Contour's innovation funnel has been carefully designed to ensure that we have a transparent high-level structure for collating and evaluating ideas at differing stages of maturity. This funnel takes best practices from industry, incorporates lessons learnt from previous innovation initiatives and enables us to implement our structured and collaborative approach to innovation.
We believe that:
Having an innovation approach that is visible to Contour members and partners allows for greater levels of engagement and scalability of innovation initiatives.
Building in engagement points at each stage of the funnel allows us to ensure that we are developing user-focused innovations that are representative of what the trade finance market is seeking.
Building in evaluation points at each stage of the funnel allows us to ensure that we are evaluating ideas in a fair and transparent manner.
Maintaining an innovation backlog allows us to track and retain information about ideas and solutions that may either be implemented immediately or retained for future implementation. This allows us to have a backlog of ideas that could allow us to be responsive to future market events.
Our process will undergo refinement as we take ideas through the funnel stages.
Next Steps
We will be publishing a series of articles that will provide a deeper dive into each of the stages, from ideation to transitioning concept ideas from the lab for implementation.
Need more information? Download an introductory slide on the Future of Finance Lab and get involved by emailing your innovation ideas and how you'd like to work with us: Future@contour.network.